各位2023级国际学生新生:
Dear New International Students,
欢迎你们加入浙江大学!现将新生入学报到相关工作通知如下:
Welcome to Zhejiang University! Please be notified of the arrangements for new student registration as follows.
一、线上预注册 Pre- registration online
(一)预注册前的准备Preparation
1.缴纳学费(自费生)To pay the tuition fee(for self-supporting students)
2.购买来华留学保险(所有学生)To purchase international student insurance(for all students)
每位新生必须购买来华留学保险。未购买保险的同学,请及时购买保险。线上预注册时,请上传电子保单。
(点击获取:来华留学生保险购买指南)
Each student must purchase insurance. Student who have not purchased insurance should purchase it in time. Please upload the electronic insurance slip when student pre-register online.
(Click to obtain: Insurance Purchase Guide for International Students )
(二)请每位新生在9月5日至9月10日登录浙江大学国际学生申请系统个人账号(http://isinfosys.zju.edu.cn/recruit/login.shtml),在页面上方查看个人学号,登陆"新生报到"栏目,按照网页指示要求完成个人信息填写和入学资料提交。
All the new students should log into the Application System (http://isinfosys.zju.edu.cn/recruit/login.shtml) between September 5 and September10, check your student ID number on the top of the page, enter the column of "新生报到"("New Student Registration"), fill in personal information and submit materials as required.
二、现场报到 Onsite Registration
所有新生,必须按照录取通知书的要求到校完成现场报到手续。
New international students must enter campus and follow onsite registration procedures according to the requirements on Admission Notice.
1.材料准备 Material Preperation
录取通知书、JW201/JW202表、照片4张(两寸白底)、护照及复印件
Admission notice, JW201/JW202 form, 4 ID photos (2 inches, white background), Passport and one photocopy.
2.时间 Time
9月12-13日 9:00-17:00 September 12-13 (9:00-17:00)
3.地点 Location
浙江大学紫金港校区(杭州市余杭塘路866号)西区国际教育学院大楼一楼大厅
1F, Administration Building of International College, West Zone of Zijingang Campus, No. 866 Yuhangtang Road, Hangzhou.
异地校区报到地址见以下第5项
Refer to item 5 for the registration location of other campuses out of Hangzhou.
4.进校方法 Methods to enter the campus
方法一:
9月12日-13日新生可凭录取通知书、本人护照从南1门(浙江大学紫金港校区余杭塘路866号)进入校园(地图见后);
方法二:
国际学生新生可以通过浙大钉提前申领浙大电子校园卡,申领成功后凭电子校园卡入校(仅限学生本人)——获得电子校园卡方式请参见下文【4、如何获得电子校园卡】
Method 1:
New students can enter the campus from South Gate 1 (No. 866 Yuhangtang Road, Zijingang Campus, Zhejiang University) with the Admission Notice and passport between September 12th and 13th(see the map below);
Method 2:
New students can apply for the Zhejiang University Electronic Campus Card in ZJU Dingtalk in advance. Only students from Zhejiang University could enter the campus with the electronic campus card, as to the way of obtaining an electronic campus card, please see below [How to Obtain an Electronic Campus Card]
南1门设新生报到接驳点,可在接驳点旁乘坐小白车到达国际教育学院大楼。新生若从其他校门进校,可自行前往报到点(国际教育学院位置参见下方地图)
There will be shuttle bus near the South Gate 1. Those who enter from other gates can go to the registration point on their own (see the map for the location of the International College)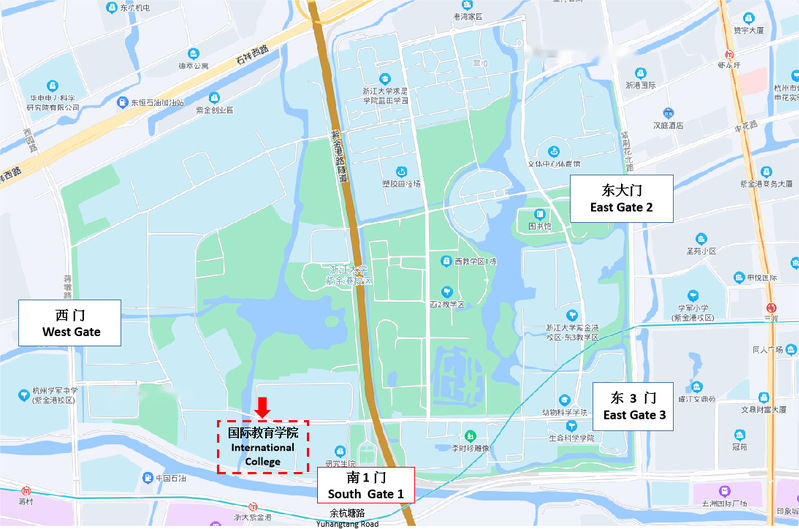 注:以上地图截图自高德,若使用百度地图搜索,"南1门"将显示为"南门"
The above is a screenshot from Amap. If you use Baidu Map , South Gate 1 will be displayed as South Gate.
5.异地校区现场报到地址
Onsite Registration on campuses out of Hangzhou
在海宁校区、舟山校区、宁波校区、义乌校区学习的同学请到相应校区报到,请关注异地校区发布的有关入学具体事项的通知。
For students of International Campus, Zhoushan Campus, Ningbo Campus and Yiwu Campus, please go to the following corresponding campus for registration.(Please pay attention to relevant notice on the specific matters of registration issued by the onsite campus.)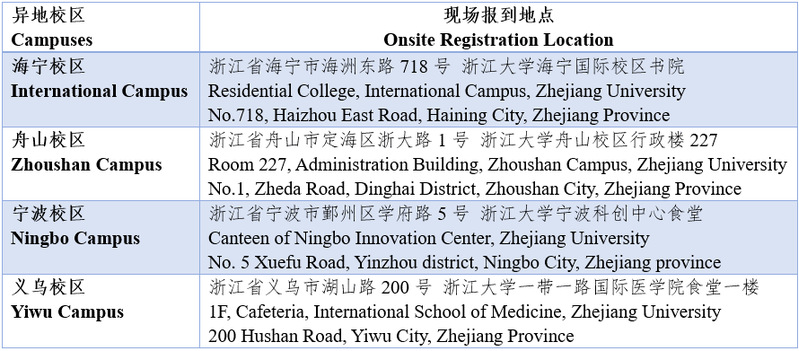 三、特别注意 Special Reminder
如未在规定时间内报到,请在9月27日前到国际教育学院412室(研究生)或414室(本科生)报到,逾期未报到者,将视为自动放弃入学资格。
Students who fail to register on site within the above time, please go to Room 412(Postgraduates)and Room 414(Undergraduates), International College for registration, and the deadline is September 27. Failure to register before the deadline will be automatically regarded as giving up the admission eligibility.
四、如何获得电子校园卡How to Obtain an Electronic Campus Card
1.下载"浙大钉"Download "ZJU Ding Talk"
请每位新生扫描下图"浙大钉"二维码下载APP,并使用招生系统"新生通"模块中确认的本人手机号码注册"浙大钉"并登录。在收到"浙大钉"邀请信息后,请点击确认,加入"浙大钉"(钉钉账号界面下方有求是鹰标志)。
Every new student should scan the following QR code to download the APP of ZJU Dingtalk, and log into by using your mobile phone number that is confirmed in the "Freshmen Gateway" of the application system. Please accept the invitation from Zhejiang University in the ZJU Dingtalk (There is a Qiushi Eagle logo on the page) when you get the invitation message.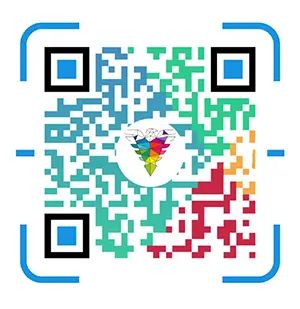 Please scan this QR code
2.获得电子校园卡Apply for an Electronic Campus Card
点击底部中间"求是鹰"标识,首次登录会跳转至浙江大学统一身份认证登录页面,请使用浙江大学统一身份认证用户名和初始密码登录(用户名:学号,密码:护照号码后六位;如需咨询统一身份认证登录问题,可拨打0571-87951456),如未出现,点击左上角箭头位置切换至"浙江大学",成功登录后,点击"电子校园卡"即可获得。
Click the emblem of "Qiushi Eagle" at the bottom. As your first login, it should lead to the page of "ZJU Unified Identity Authentication" where you could log into (username: student ID number; password: last 6 digits of your passport number;To inquire about "ZJU Unified Identity Authentication"login, please call 0571-87951456); if not, click the arrow button at the upper left corner and choose "浙江大学" (Zhejiang University). You will receive the "electronic campus card" by click the "电子校园卡"after successfully log in.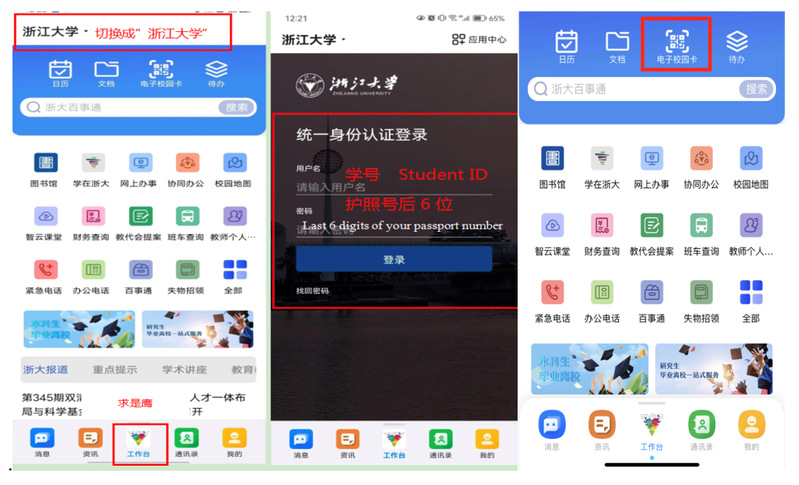 注:浙大钉为学校指定联络工具,进校后会建钉钉联络群,请同学们在现场报到前下载并完成注册。

"ZJU Ding Talk"is an assigned contact tool for the university, and contact groups will be set up in the APP after you entering school. Please download and register the APP in advance before onsite registration.
浙江大学国际教育学院
2023年9月2日