各位新生:
Dear New International Students,
欢迎你们加入浙大!现将汉语言进修生新生入学报到相关工作通知如下:
Welcome to Zhejiang University! Please find the information of registration (for Non-degree Chinese Language Program) as follows:
一、在线报到
Online Registration
首先,请每位新生登录浙江大学国际学生申请系统个人账号(网址:http://isinfosys.zju.edu.cn/recruit/login.shtml),在9月12日前填写并提交"新生通"和"新生报到"栏目。你的学号可以在主页的左上角查看,例如:Y23099XXXX。
First of all, all the new student should log in to your personal account in the International Student Application System of Zhejiang University (http://isinfosys.zju.edu.cn/recruit/login.shtml), and fill in the modules of 'Freshmen Gateway' and 'Freshmen Registration' before September 12. Student ID number could be found on the left top of the home page starting with Y23099XXXX.
二、获得校园电子卡
To Apply for Electronic Campus Card to enter campus
温馨提示:9月12日和13日新生可出示录取通知书、本人护照进入校区。
Notice: New students can enter the campus with the Admission Notice and your passport on September 12th and 13th.
在收到"浙大钉"邀请信息后,请点击确认,加入"浙大钉"。点击底部中间"求是鹰"标识,首次登录会跳转浙江大学统一身份认证登录页面,请使用浙江大学统一身份认证用户名和初始密码登录(用户名:学号,密码:护照号码后六位),如未出现,点击左上角箭头位置切换至"浙江大学"。成功登陆后,点击"浙大通行码"即可获得"校园电子卡"。
After receiving the invitation message from ZJU DingTalk, please click Confirm to join ZJU DingTalk. Click the emblem of 'Qiushi Eagle' at the bottom. as you log on for the first time. It should lead to the page of "ZJU Unified Identity Authentication" where you could log on (username: student ID number; password: last 6 digits of your passport number); if not, click the arrow button at the upper left corner and choose "浙江大学" (Zhejiang University). You will receive the Electronic Campus Card by click '校园电子卡'after successfully logging in.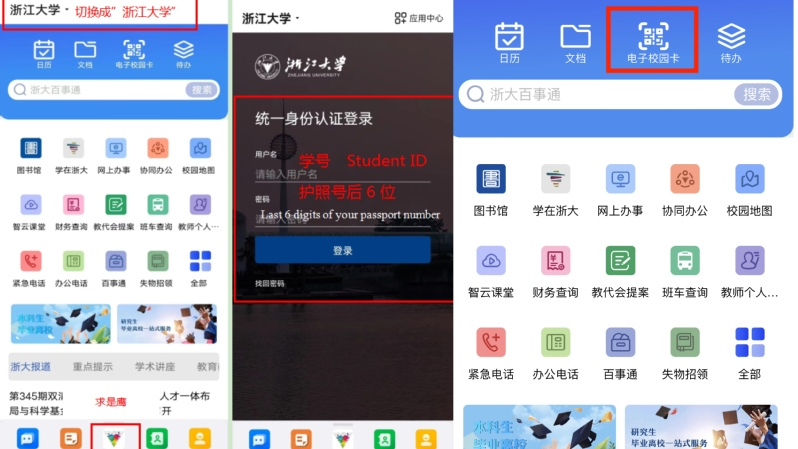 三、现场报到安排
Arrangement for Onsite Registration
1. 线下报到时间:9月12日和13日(9:30-16:30)。
Dates & Time for Onsite registration: 9:30-16:30, September 12 and 13.
2. 线下报到地点:杭州市西湖区浙大路38号 浙江大学玉泉校区竺可桢大楼一楼大厅。(建议新生同学们从距离竺可桢国际教学院大楼最近的西溪路北校门入校)
Location of Onsite Registration: Lobby, the 1st floor of the Chu Kochen Hall on Yuquan campus, No.38, Zheda Road, Hangzhou.(You are strongly advised to enter from the North gate on Xixi Road, which would be much closer to the building)
3. 线下报到需携带材料:照片、录取通知书复印件、护照首页复印件、签证页复印件、入境时间复印件。
Materials required for Onsite Registration: Your ID photos, copy of admission notice, copy of passport first page, copy of visa page, and copy of entry time page.
学生需完成在"线上报到"后,才可以进行线下报到。如未能在9月12日和13日到校报到,请在报到截止日期9月27日前到竺可桢大楼2楼205办公室完成报到。超过截止日期未报到的,将被视为自动放弃入学资格。
All the new students are required to complete the online registration before the onsite registration. If you fail to reach and register on campus on 12th and 13th September, please go to Office 205, 2F, Chu Kochen Hall to complete registration before the deadline of 27th September. Failure to report after the deadline will be regarded as automatic abandonment of enrolment qualification.
四、办理实体校园卡
To Apply for Physical Campus Card
在完成现场报到手续后,可以前往玉泉校区的"校园卡中心"办理实体校园卡。实体校园卡可以用于学校食堂吃饭和其他校园内消费。预计报到当天学生人数众多,请大家保持耐心,选择合适的时间去办理。
玉泉校区校园卡中心地址:民族餐厅对面。
After completing the on-site registration procedure, you can go to the Campus Card Centre (Yuquan Campus) to apply for a physical campus card, which can be used for meals in the cafeteria and other on-campus purchases. A large number of students are expected on the days of registration, please stay patient and choose a suitable time to apply for the card.
Address of Campus Card Center (Yuquan Campus): Opposite to Ethnic Dinging Hall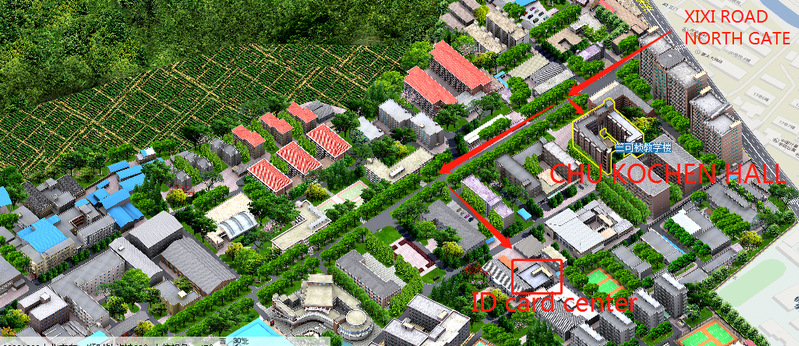 浙江大学国际教育学院
2023年9月4日